Description
Comments on Instagram help the contents look beneficial and effective. This means you should have strategy to take more comments on posts.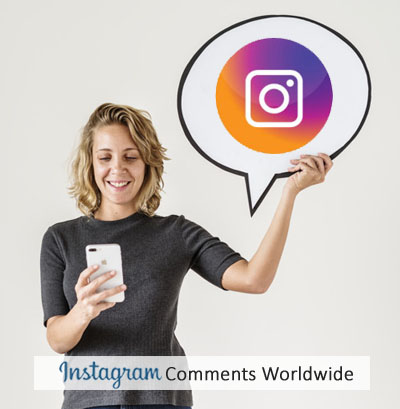 Instagram comments buying positive points
More views on your business page
Marketing advisors mostly consult to buy comments on Instagram to rise the trust between them and costumers. This highlights the comment importance to absorb their attention. Businesses which get more comments on their posts, are the most effective and attractive posts. This technique helps to get more followers who are absolutely effective and helpful to its growing rate.
More popularity with buying comments on instagram
Users don't get into Instagram only to visit photos and videos. Some of them tend to buy comments on Instagram because it provides the opportunity for business to get more views and validity. After you buy comments, you will see a sudden boost on your posts comments and more activity among your followers. Your followers will check to your page more and more and also the number of users follow you.
Important tips and teach before buy Instagram followers
1. Enter your Instagram username on the form
2. Change the "Private" status to increase the follower and like
3. To change the private status, open the app on your phone, through "Setting" turn off the private
4. Instagram username is the same username that you use it to log in to your account
5. You can personalize your order on the request page bottom about the number of likes and views
6. You can choose posts to get the likes for example you choose 1000likes for last 3 posts.
7. Please wait after payment to return to the site
8. If there is any problem or question you can solve it through telegram.
FAQ:
What is the use of buying a comment?
Comments indicate how much people interact with you. For example, when a person enters your Instagram page, seeing the high number of comments, they think that you have a great relationship with your followers and you receive a lot of feedback because of the rich content.
Are the comments made by real users?
Yes. Comments are written by completely real users.
Can I specify a topic for comments?
Yes. One of the special points of MySocialMember site is that you can buy your comment as you wish. When ordering, you enter the subject you want to comment in the order description section.
How do we send you the desired post to increase the comment?
To do this, all you have to do is click on the three dots in the desired post and click on the share URL option, and send us this link while ordering.
Do I need my password to buy an Instagram comment?
No, to buy an Instagram comment, we only need your ID, which will be added to your post immediately after registration. If your page is in private mode, take it out of private mode at the time of ordering and you can return it to its original state after completing the order.